---
In Concert:
Community Music Groups Working Together
A Newsletter of Southwestern Pennsylvania Band Partners

---
---
Correction
In the announcments section: For discounted tickets to the Symphony, Marianne Haffey's phone number should be 412.392.3320.



Inside This Issue:
Interesting things area bands are doing

Area community bands are doing interesting things. What has your band been up to, drop us a note at newsletters@swpabandpartners.pghfree.net with the subject "SWPABP: Interesting things" and we will feature it in an upcoming newsletter.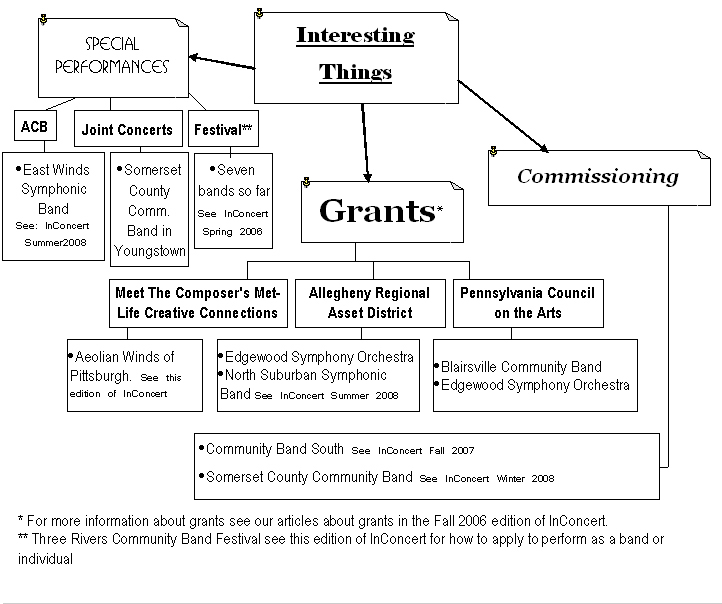 ---


send email to newsletter@swpabandpartners.pghfree.net

---
Aeolian Winds Present a World Premiere
The Aeolian Winds of Pittsburgh will present the world premiere of Greg Bartholomew's "Second Suite from Razamov" for wind quintet at 3pm on Sunday, November 9th at the First Baptist Church of Pittsburgh. Greg himself will host a preconcert talk at 2pm which will include a live performance of the "First Suite from Razamov" for clarinet, cello, and piano. The rest of the concert will feature wind quintet works by Georges Bizet, Endre Szervánszky, and Júlio Medaglia. A post-concert reception will follow the performance. Be sure to tune in to WQED-fm on Friday, November 7th – Jim Cunningham will interview Greg about the piece and you'll be able to hear some of Greg's music on the air! An encore performance of the concert only will occur on Sunday, November 16th at the Bower Hill Community Church.

For more information, please visit http://www.aeolianwinds.com .

This performance is funded in part through Meet The Composer's MetLife Creative Connections program


---
More about Meet the Composer

According to their web site, Meet The Composer started in 1974 through the New York State Council on the Arts. Since then they have become a nationwide organization with a mission to "increase opportunities for composers by fostering the creation, performance, dissemination, and appreciation of their music." They do this in a variety of ways, one of which is the MetLife Creative Connections program that supports composers interactions with the audience as well as performers. Applications can be submitted at various times of the year for projects to bring composers to participate in projects with your group. There is a list of suggested ideas with the application. The main idea is for the composer and public to interact.

Visit the web site: http://www.meetthecomposer.org/programs/metlifecreativeconnections.htm

Note: The Sponsoring Organizations no longer need 501(c)3 status to be able to apply which is a change from the past.


---
Reflections from Band Camp
By Sarah McElfresh

Towards the end of June, we put our instruments in the car and headed west for Ashland University in Ashland Ohio for the North Central Ohio Adult Music Camp. They offer a 3 and 4 day camp. The 4 day camp is the same as the 3 day, but has an additional day ahead of time for small ensembles or a big band. My husband Scott participated in the big band day and we both participated in the 3 day community band camp.

For the community band portion of the camp, we arrived to the band room with a folder packed full of music that we would spend the next few days reading through and working on. The final afternoon of the camp is a concert where we perform selections from that music in the university's auditorium. Selections included things that are standard in the band literature as well some that were new to many of us including some original arrangements brought by fellow campers. Some of the pieces included Pineapple Poll, Jubilant Overture, American Riversongs, Suite of Old American Dances, and Music for the Kings Delight. We were treated to a visit by Percy Hall who wrote El Bandito de Zamora which we were also working on. He took the baton and directed us through some passages and detailed his thoughts in writing the piece as well as his philosophy in the different types of arrangements. It is always an interesting experience being conducted by the composer.

During the 3 day camp there was also the opportunity to break in to sectionals where we would either work on some passages in the concert band music, or play some choir or ensemble music. This also allowed for more interaction among the campers.

The evenings were set aside for small ensembles, clinics, and group discussions. One evening many of us sat and played or listened to a Dixieland group. Someone brought several Dixieland books which we ran through decked out in Mardi Gras beads that one of the other campers happened to have in their car. In the evening woodwind quintets as well as flute choirs also got together to play. One night saw a clinic on clarinet mouthpieces. We also had a gab session about our bands where we were able to ask questions and share experiences on the different things that affect community bands. Topics ranged from recruitment and advertising to insurance and transporting equipment to venue types and audience sizes. It was a chance to share ideas and get to know each other without our instruments.

As with many things meal time was also a chance to interact with the other musicians. Lunches were provided with the camp sometimes at the student union's café and other days at one of the local churches. Many of us stayed at the same hotel so shared a continental breakfast together. Dinners were on our own, and many people got together with others to check out the local fare. Most of the campers were from Ohio, with others from Pennsylvania, Michigan, Indiana and a few other states.

We are looking forward to attending next year!

The tentative dates for next summer's NCOAMC are June 24-27th updates should be posted at http://www.trinityashland.org/ under Trinity Academy of Fine Arts some time in the spring. We will also try to announce the dates and information on our electronic mailing list.

For information on other band camps, please refer to our Spring 2008 newsletter for the article entitled "Band Camp: What are you going to do on your summer vacation?"

---
New Music Corner
This section is intended to be a place for conductors and musicians to share information on new music they are playing. If you have something to contribute please email us the information at newsletter@swpabandpartners.pghfree.net with "New Music Corner" in the subject line. Please include the title, composer/arranger, publisher and a brief description of the piece.

Suite Dreams
Composer: Steven Bryant
Published: 2007
Grade: 4 or 5*
Performance time: 8:30-8:45
Publisher: BCM International / Hal Leonard
Steven Bryant's web site: http://www.stevenbryant.com

* Steven Bryant's web site indicates it is Grade 4 while Hal Leonard indicates it as a Grade 5.

Compiled by Sarah McElfresh
Sources:
http://www.stevenbryant.com/suitedreams.php
http://www.stevenbryant.com/parodysuite.php
http://www.halleonard.com/instFeature.jspfeatureCat=1860002&location=BandOrchestra&combine=N

I first heard this piece performed by The United States Military Band at West Point at the 2008 Association of Concert Bands Convention. The introduction of the piece intrigued me as it is based on Holst's First Suite in Eb—one of my favorite pieces to play and listen to. I wondered if I would be excited or disappointed when the piece was over. It is indeed an interesting work to listen to and I imagine to play and work on as well. The piece is based on the Chaconne melody and is presented in a dream-like fashion as it moves through the band. When the piece ended, I was not disappointed. It is like the original Chaconne movement in that intonation and precision are incredibly important and it is a very moving 8 1/2 minutes.

An excerpt from Steve Bryant's web site:


Suite Dreams is the fourth and final(?) of my Parody Suite pieces. Unlike the others (Chester Leaps In, ImPercynations, and MetaMarch), it's not intentionally funny and tongue-in-cheek in character. Rather, it's more a dream-like fantasia based on Holst's First Suite in Eb. The motivic material is almost exclusively from the inverted Chaconne melody in Mvt. I and from Mvt. III.




It is definitely worth the time to listen to the mp3 file available at either Steven Bryant's or Hal Leonard's web site and determine if this piece is right for your group.


---
Combined Calendar (As of August 29, 2008 for Fall 2008)
For the updates and the entire calendar visit the online calendar
October 2008:

November 2008:

| | | | |
| --- | --- | --- | --- |
| Sun, 2 | 2:30pm | East Winds Symphonic Band | Rodef Shalom, Shadyside |
| Sat, 8 | 7:30pm | Butler County Symphony Orchestra | Butler Area Intermediate High School Auditorium |
| Sun, 9 | | Aeolian Winds of Pittsburgh | First Baptist Church of Pittsburgh |
| Sun, 9 | | Blairsville Community Concert Band | Veteran's Day Concert |
| Sun, 9 | 7pm | Jeannette Community Band | Veteran's Day Concert, Jeannette American Legion |
| Sun, 16 | | Aeolian Winds of Pittsburgh | Bower Hill Community Church |
| Sat, 22 | 8pm | Westmoreland Symphonic Winds | Cecilan Hall, Seton Hill University |
| Sun, 30 | 2pm | Armstrong Concert Band | West Kittanning Firehall |
December 2008:
| | | | |
| --- | --- | --- | --- |
| Sat, 6 | 7:30pm | Butler County Symphony Orchestra | Butler Area Intermediate High School Auditorium |
| Sat, 6 | | Washington Symphony Orchestra | Trinity High School, Washington |
| Sun, 7 | 4pm | The Musicians Concert Band | Slippery Rock University's Miller Auditorium. |
| Sat, 13 | 7pm | The Pittsburgh Philharmonic | North Hills. Jr. High Auditorium |
| Sat, 13 | 7:30pm | Edgewood Symphony Orchestra | First Presbyterian Church of Edgewood |
| Sat, 13 | 7:30pm | East Winds Symphonic Band | Franklin Regional Middle School, Murrysville |
| Sun, 14 | 3pm | West Hills Symphonic Band | West Allegheny High School |
| Sun ,14 | 3pm | North Suburban Symphonic Band | Greater Pittsburgh Masonic Center |
| Sun, 14 | 3:30pm | Community Band South | Bethel Park Community Center, Bethel Park |
| Sat, 20 | 7:30pm | Pittsburgh Civic Orchestra | Upper St. Clair High School Theatre |
| Sun, 21 | 7pm | Jeannette Community Band | Jeannette American Legion |
---
Announcements:


Discount tickets to The Pittsburgh Symphony Orchestra


Save these Dates - The Pittsburgh Symphony Orchestra welcomes Southwestern PA Band Partner members! Join us Oct. 31- Nov 2, 2008 for Strauss' Alpine Symphony, and December 5 -6, 2008 for Bernstein's West Side Story Symphonic Dances, string trio Time for Three and Copland's Symphony No 3. Southwestern PA Band Partner members enjoy discounted tickets and personalized service through Marianne Haffey - call 412.393.3320 or mhaffey@pittsburghsymphony.org for further information on these and any other PSO/Heinz Hall performances. Just mention "Band Partners"!






Three Rivers Community Band Festival

Accepts Applications for Bands To Perform


The 6th Three Rivers Community Band Festival will be May 2, 2009 at Upper St. Clair High School Theatre. The festival invites applications from area community bands . For information about the festival and how to apply visit: http://www.ewsb.org/festival






Three Rivers Community Band Festival

Festival Band Registration open for 2009 Festival


The 6th Annual Three Rivers Community Band Festival will be held May 2, 2009, at Upper St. Clair High School There will again be a "Festival Band" which will allow a larger number of area musicians to participate in the festival. The band will rehearse on the morning of the festival with guest conductor, Elisabeth Heath-Charles and then perform selected pieces during the afternoon concert. For more information and application materials, please visit: http://www.ewsb.org/festival




Contacting Us:

Southwestern Pennsylvania Band Partners is dedicated to helping community music groups in the southwestern Pennsylvania Region.
Please visit us online at the address below to learn more or become involved.
http://swpabandpartners.pghfree.net

---
Regional Bands with web sites (for updated list visit the links page)



---
Contributing to the newsletter
Everyone is welcome to contribute an article to the newsletter. The topic is up to you—something you think your fellow musicians would be interested in. We are always looking for contributions to the "New Music Corner." Just email your article to:
newsletter@swpabandpartners.pghfree.net

For additions to the web site email:
info@swpabandpartners.pghfree.net

---
In the next newsletter
In our next newsletter due out in early January you will find:


YouTube and community bands and the community band musician

---
Editors
Sarah McElfresh, East Winds Symphonic Band
Scott McElfresh, East Winds Symphonic Band
Kathy Wikowski, Allegheny Brass Band, North Suburban Symphonic Band

---
September 29 2008